5 Hot Wings for Your Hot Valentine Date
Posted by Karen Nah | February 8, 2016
I remember someone once told me, "Love is about how you earn your wings". It is about opening your heart fully, allowing yourself to feel that ever-expansive feeling from the heart and let yourself experience the feeling wholly.
And then it suddenly struck me, for Valentine's Day, I am going to serve up hot and spicy wings. The type which ignites fire of passion deep within your belly! After all, who doesn't like a great chicken wing recipe? So here I am, with 5 carefully curated chicken wing recipes cooked in different spicy style to excite your night with your valentine.
For that extra punch of taste, it would be best to marinate your hot wings of love overnight. But if time is of an essence, give it at least a good 3 hours to soak in all the flavours. My choice of wings are from the wet market, rather than the frozen ones at the supermarket. I personally find there's a great taste different; wings from the wet market tend to be tastier and juicer.
For any of these 5 recipes, feel free to up the heat if needed. If not, what is created is good for an average person's taste.
Hope you enjoy these recipes and be sure to make hot wings for your 'hot' date on this Valentine's Day.
Let's start cooking with love and kisses….
1. Spicy Korean Chicken Wings 
Ingredients 
Chicken Wings
6 chicken wings
1/3 corn starch
1/2 milk
1 tsp salt
1tbsp black pepper
Vegetable oil for deep frying
Sauce
3 tbsp fine ground red chili pepper
4 tbsp soya sauce
3 tbsp sugar
2 tbsp rice vinegar
6 cloves of peeled garlic (blend)
1 inch peeled fresh ginger (blend)
4 tbsp korean red pepper paste (gochujang)
Garnish
Spring onion
1 tbsp toasted sesame seeds
Method
Lightly salt and pepper the chicken wings. Leave aside for 10 to 15 minutes. Place wings in a large bowl and pour milk over them, place in refrigerator for about one hour, turning three to four times.
For the Sauce: Place the ginger and garlic into a blender with just enough water to liquefy the mix. Pour into a small mixing bowl and add all other sauce ingredients & mix well. Finely chop the green/spring onion and set aside.
Chicken Wings: Discard the milk and let wing section drain until just damp. Heat oil in a large cooking pot. (350ºF or use the bread test) Roll wings in starch and deep fry until golden brown then drain.
Transfer the chicken to a large stir fry pan or wok over medium to medium high heat, add the sauce, and stir fry until all liquid is gone.
Place onto a serving tray and garnish with the green onion and sesame seed. Ready to serve.
---
2. Fried Curry Sesame Chicken Wings by Chef Mural
Ingredients 
8 Chicken wings
2 tbsp ginger garlic paste
2 tsp red chilli powder
2 tsp curry powder
1 tbsp white sesame seeds
1/2 cup refined flour
1/2 cup corn flour
2 raw eggs
1/2 cup water
2 tbsp lime juice
Salt to taste
Vegetable oil (for deep fry)
Sauce
1/2 cup mayonnaise sauce
2 tbsp olive oil
1 tbsp crush red chlli flakes
1 tbsp finely chopped garlic
Method
Wash the chicken wings, pat dry with kitchen towels.
Put the wings in a bowl, add ginger garlic paste, red chilli powder, curry powder, white sesame seeds, salt, lime juice, eggs and water.
Mix well with marinate. Set aside in chiller for 3 hours or more.
In a glass bowl, prepare mayo sauce. Mix mayonnaise sauce, olive oil, crush red chilli flakes and chopped garlic.
Heat oil in a large cooking pot. (350ºF or use the bread test). Deep fry until cooked and crisp then drain.
Serve with fried chicken wings with chilli garlic mayo sauce.
---
3. After School Fried Chicken Wings by Chef Iskandar Latiff
Ingredients for chicken
8 large chicken wings
1/2 cup tamarind pulp
1 tsp fish sauce
Spice blend
1 tsp cumin powder
1 tsp tumeric powder
1 tsp chili powder
1 tsp salt
1 tsp fish curry powder
Oil for frying
Method
Wash and clean- wipe dry the chicken wings
In a large mixing bowl add in the spice blend
Add in the chicken wings and gently give it a good rub
Add in tamarid pulp – mixed well and marinate for 2-3 hours
In a large pot heat up oil enough for deep frying
Deep fry the chicken until cooked to golden brown
Ready to serve.
Ingredients for kecap manis dip
1/2 cup kecap manis
1 whole chopped chili padi
3 whole sliced shallots – 3 whole
3-4 whole calamansi juice
Chopped coriander leaves
Method
Add in all the ingredients into a bowl and mix well
Ready to be serve with chicken wings
---
4. Tom Yum Chicken Wings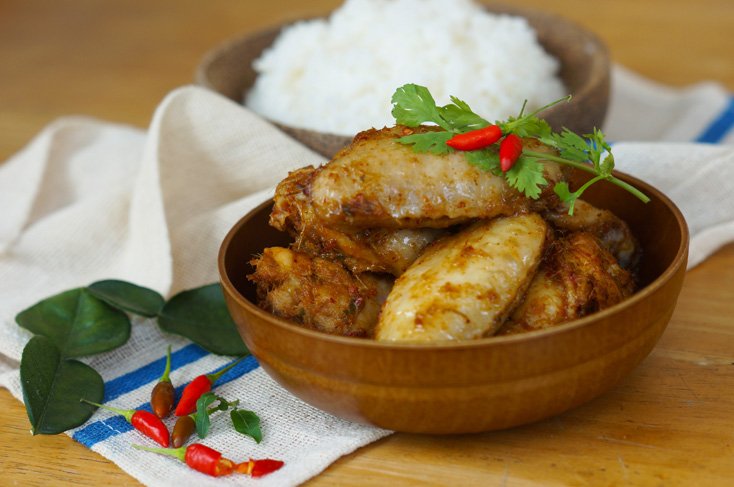 Ingredients
10 chicken wings
4 stalks of lemongrass (only use the white portion)
6 kaffir lime leaves (finely cut)
4 tbsp tom yom paste
2 tbsp light soya sauce
2 tbsp  cooking oil
Method
Blend all ingredients except chicken. Marinate on the chicken wings for 3 hours or more.
Preheat oven for 10 minutes 210 C
Brush off the marinate before putting into the oven.
Lightly grease the wings and place the marinated chicken wings under 210 C for 40 minutes.
Ready to serve
---
5. Fried Mala Chicken Wings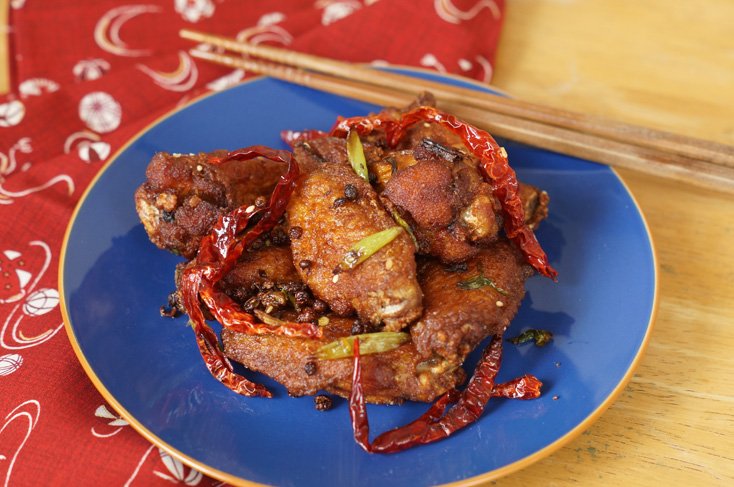 Ingredients
4 chicken thighs
1 small bowl of chili peppers (remain some of them as whole to reduce the spicy taste)
2 inches ginger, sliced
1 scallion, cut into small round sections
½ teaspoon sugar
1 tbsp Sichuan peppercorn, rinsing in clean water and drain
Cooking oil for deep frying around 3 cups
1 tbsp sesame seeds
1 tbsp sesame oil
Marination
1 tbsp soy sauce
1 tbsp rice wine
¼ tsp white pepper powder
3 tsp cornstarch
2 slices of ginger
10 shreds of scallion
1 tsp salt or as needed
Method
In a large bowl, marinade the chicken wings with all the marinating sauce. Mix well and set aside for around 10 minutes.
In a large pot heat up oil enough for deep frying. Deep fry the chicken until cooked to golden brown. Drain.
Lightly grease the wok. Add Sichuan peppercorn until you can smell the taste. Then add dried chili peppers, followed with ginger and scallion, to continue fry for around 1 minute with slow fire.
Turn up the fire, put deep-fried chicken wings in. Add ½ tablespoon rice wine and salt according to taste.
When the wings become crisp and bright, sprinkle sesame seeds, add sugar and sesame oil. Mix thoroughly.

Share: